"With Bill Clinton, it is often tempting, but usually misleading, to try to separate the good from the bad, to say that the part of him that is indecisive, too eager to please and prone to deception, is more revealing of the inner man than the part of him that is indefatigable, intelligent, empathetic, and self-deprecating. They co-exist. In his worst times, one can see the will to recover and the promise of redemption. In his best times, one can see the seeds of disaster."
First in His Class
A Biography of Bill Clinton
Who exactly is Bill Clinton, and why was he, of all the brilliant and ambitious men in his generation, the first in his class to reach the White House? Drawing on hundreds of letters, documents, and interviews, David Maraniss explores the evolution of the personality of our forty-second president from his youth in Arkansas to his 1991 announcement that he would run for the nation's highest office. In this richly textured and balanced biography, Maraniss reveals a complex man full of great flaws and great talents. First in His Class is the definitive book on Bill Clinton.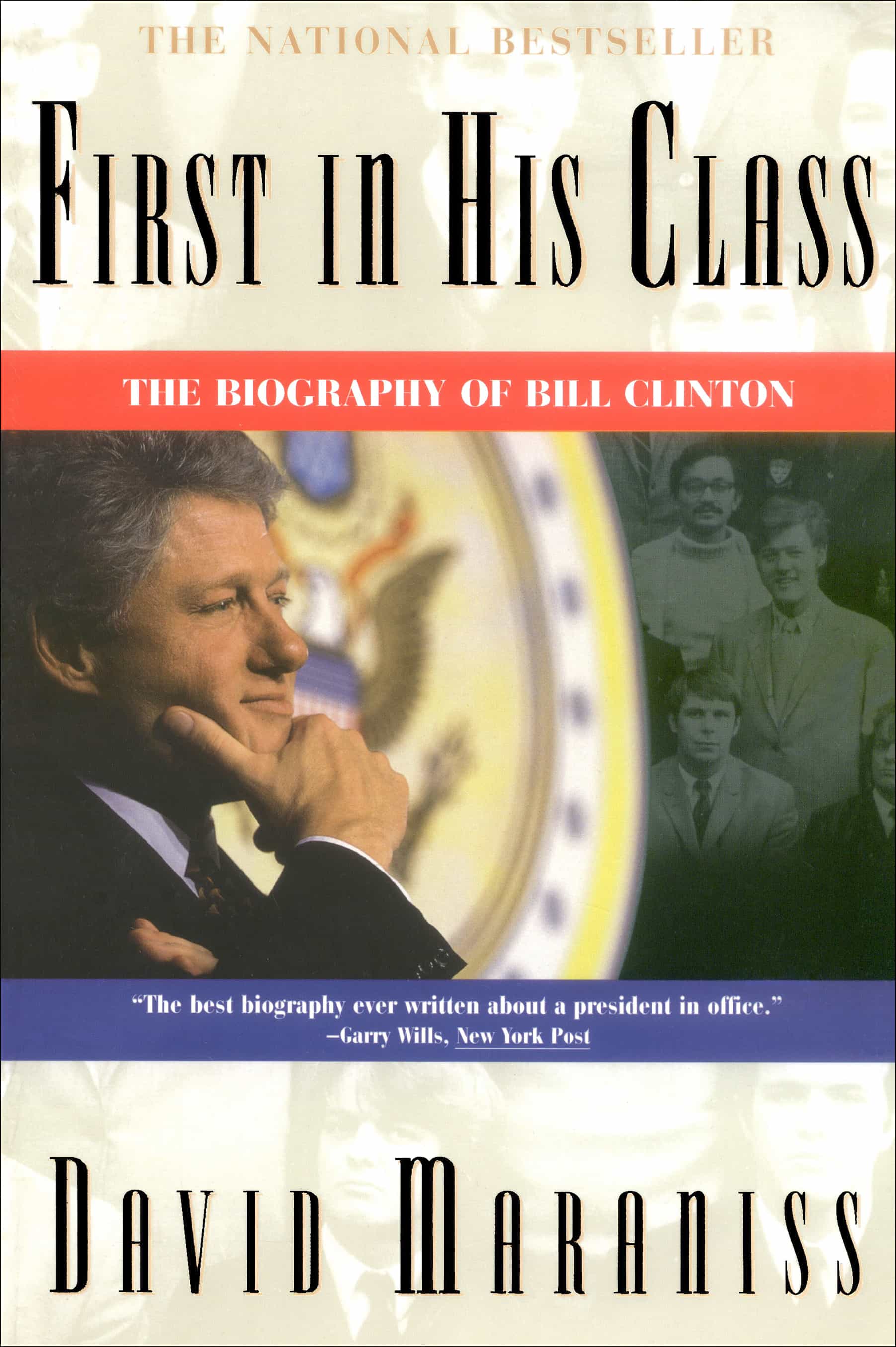 512 pages
Simon & Schuster
Feb 1996
ISBN 9780684818900
First in His Class – A Biography of Bill Clinton

"First in His Class is a triumph of American political biography."

First in His Class – A Biography of Bill Clinton

First in His Class by @davidmaraniss is one of the best bios of any president and it's certainly the authoritative work on Clinton.

First in His Class – A Biography of Bill Clinton

"If the answers make you a bit nervous about the man in the White House, it won't be because Maraniss tried to stir you to that reaction. What he is trying to stir you to is a feeling for Clinton's aura and promise of importance, even in his early years."
Hope and Chance
Chapter One
William Jefferson Blythe III arrived in the world one month ahead of schedule. He was lifted from his mother's womb in a Caesarian section performed at Julia Chester Hospital in Hope, Arkansas, at an hour past dawn on August 19, 1946, weighing six pounds and eight ounces. The birth of this fatherless son in a place called Hope did not go unheralded. There had been record heat the day before, exceeding a hundred degrees, followed by a ferocious thunderstorm that cracked and boomed all night, igniting three fires in town. The local moviehouse happened to be showing a film that captured his twenty-three-year-old mother's predicament: The Young Widow, starring Jane Russell.
His mother, the young widow, Virginia Dell Blythe, took him home to Hervey Street, to a big white house with hardwood floors and French doors where she lived with her parents, Edith and Eldridge Cassidy, who from then on were known to him in the southern vernacular as "Mammaw" and "Pappaw."
First in His Class – A Biography of Bill Clinton

"No other Clinton biography comes close to First in His Class by @davidmaraniss.  Deeply researched & beautifully written."

First in His Class – A Biography of Bill Clinton

"This is a first-rate political biography. To understand why the shorthand on this man [Clinton] is so insufficient, this book is essential."

First in His Class – A Biography of Bill Clinton

"Finally, a real book on Bill Clinton."